When Lou Reed met Steven Spielberg at the Kotel
By Stephen Epstein
When you make $40,000 camera systems you tend to have interesting users who appreciate quality products. Lou Reed was one of our users and in the fall of 2008, when we heard that he was in Israel, travelling with his wife Laurie Anderson, we decided to show him our newest camera. Calls were made and he was located in Tel Aviv, preparing to return to the USA after Laurie's concert. We offered to let him take our new camera out for a spin while on a tour of Jerusalem and he was happy to have the opportunity. It worked out perfectly for him, because he had a few hours to spare before his flight back to the States. So, I met Lou, Laurie and the crew for breakfast at their hotel and I gave Lou a crash course on how to use the Leaf camera system. He caught on quickly and we all got on the bus and headed to Jerusalem.
A few of the band members sat in the back of the nearly empty bus, strumming on a guitar and relaxing, while Laurie and Lou sat up front, with big smiles on their faces, both on cloud nine — she just finished her concert and they were elated that hours earlier, Barack Obama had won his first presidential election. It was a good day for Laurie and Lou.
We got to Jerusalem and met up with Rabbi Levi Weiman-Kelman and his wife Paula, personal friends of Laurie and Lou. We all entered the old city through the Jaffa Gate and meandered down to the Kotel through the Shuk. Lou had the Leaf camera in his hands, stopping to take pictures of things that caught his eye. I had my camera in my hands, stopping to take pictures of Lou as he explored Jerusalem.
As a photographer, I have taken pictures of many famous people through the years, including Andy Warhol, the manager of the Velvet Undergound, but for some reason, photographing Lou Reed in Jerusalem that day was different. Lou was a celebrity that meant something to me personally. It was as if he was visiting my own house and I was able to show him things that were meaningful to me. Being a product of a Canadian avant garde art school in the 1970s, Lou Reed's music was a strong part of who I was and helped shape me into a person who eventually moved to Israel.
We arrived at the Kotel and stood around the plaza while Levi explained the history of the Western wall. A young man, a tourist from France, approached me and said: "Steven?" I instinctively answered "yes" because my name is "Stephen"...just spelled differently. The tourist replied: "I thought it was you, Mr. Spielberg." This was not the first time that I had been confused with Steven Spielberg. Perhaps it has something to do with graying Jews with Yasser Arafat-type beards, in baseball caps and glasses, but I did not have the heart to tell him that he found the wrong Steven. My past experiences tell me that denying it is hurtful, because the people asking for pictures just think you are blowing them off because you don't want the paparazzi to find you. I looked up at the Kotel and then looked at the tourist and decided to stand for a picture, hoping that God would understand.

Our group then approached the Kotel, Lou and the members of the band donned Kipot and Lou proceeded to follow the local tradition of putting a note in the cracks of the Kotel. I don't know what he wrote, but given his remarkable ability to write profound songs for the public, his note to God must have been amazing. I watched as Lou took pictures of an obliging Hasid and thought about how the worlds of the Hasid and Lou came from the same place via different routes and ended up together this day at the Kotel.

We headed back to the plaza where we met Laurie and Paula and then I heard that familiar, "Hello Mr. Spielberg…can my friend take a picture of us together?" Having just visited the holiest spot in the world for Jews, my conscience was beginning to get to me. I asked my new friend to wait for a minute and I turned to Lou, unrecognized by the young tourist, explained the situation and asked if he would pose with us. I figured that when the visitor got back home and showed his pictures of his brush with fame at the Kotel, and someone would tell him that I was in fact NOT Steven Spielberg, he would at least have another celebrity in his picture. Lou declined the photo op and I proceeded to pose with my latest fan alone.
We walked around a bit more and eventually said our goodbyes. The bus took Lou, Laurie and her crew to the airport and I went home to Rehovot.
A few days later, when I processed the files from the camera Lou was using, I got a chance to see exactly what inspired him and caught his eye. I viewed his unedited images, the angles he used, the good shots and the not so good ones, and found that he had even taken a picture of a tourist standing at the Kotel with Steven Spielberg.
Contact Stephen to discuss your project.

© Stephen Epstein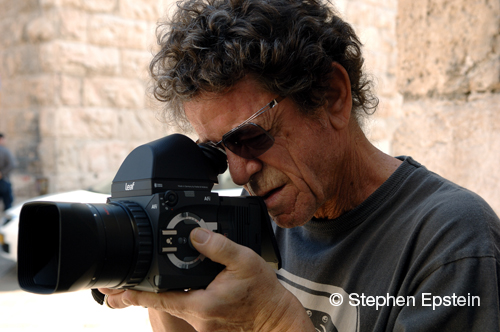 © Stephen Epstein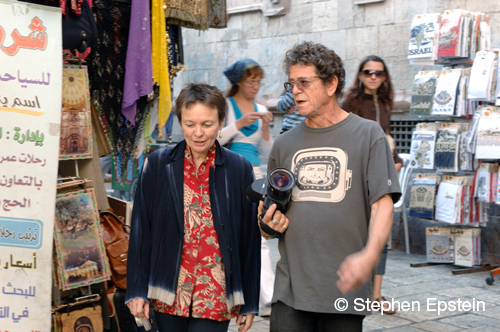 © Stephen Epstein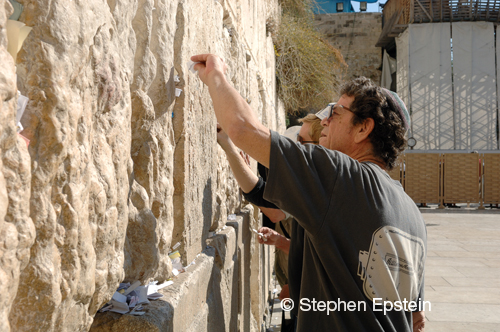 © Stephen Epstein